As the days cool off, it's time to prepare your curb appeal for winter. Getting a head start on winterizing your yard gives you an opportunity to improve the current condition of your landscaping, and might save you some money. Take a look at our 21 ways to prep your landscaping for the winter.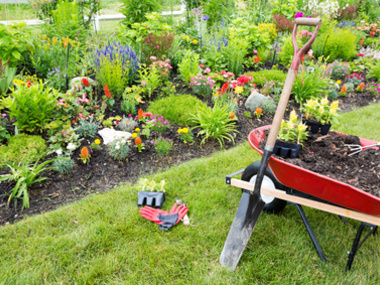 1. Seed the yard with cool-season grasses like fescue or ryegrass. The best time to overseed is six to eight weeks before the first hard freeze.

2. Spray pre-emergent for the weed seeds that blew into your yard during the summer months and spot spray any fully-developed intruders.

3. Make mulch or compost from the leaves that fall off your trees. Putting homemade mulch around your flower beds in the fall will provide insulation.

4. Top your compost pile with a thick layer of leaves or straw during the fall.

5. Identify any plants that have outgrown their space and divide accordingly.

6. Stock up on new landscape additions. Nurseries often have sales to empty their shelves before winter.

7. Fertilize your lawn, flower beds and trees. Fall fertilization increases the productivity of the soil. Trees and shrubs with a healthy root system have fewer dead branches and improved spring growth.

8. Winterizing your sprinkler system before the first freeze helps prevent costly repairs to your system and home. Cover the backflow preventer to avoid a busted pipe and a flooded basement.

9. Consider adding light mulch such as hay, straw or pine needles in your flower beds to protect perennials from the hard freezes. Spread 2 to 3 inches of fresh mulch around shrubs and trees. Hardwood shredded mulch from home and garden centers is higher quality and disease free.

10. Plant trees and shrubs. By planting now, new trees and shrubs can get used to their new home before enduring the dog days of summer.

11. Dig up any bulb plants that aren't hardy in your zone and replace them with cool weather flowers.

12. Check the overall health of plants, look for diseases and damage.

13. Remove dead annuals, spent blooms and cut back ornamental grasses and perennials.

14. Lightly prune dead and dying branches from shrubs and trees.

15. Remove dried blossoms from hydrangea, but don't eliminate dead-looking stalks; new buds will form in spring.

16. Cut back tea roses to about a third of their height after the first frost. Other types of roses might not need pruning, so research before you cut.

17. Surround vulnerable trees with shredded leaves or mulch for insulation.

18. Replace plastic plant ties with jute twine as natural fibers make the best plant ties because they're more flexible.

19. Collect seeds from summer annuals to plant in the spring.

20. Disinfect your pruning shears.

21. Turn annuals into houseplants for the winter.
What are your favorite tips for keeping your plants and landscaping alive and well throughout the winter?
*Powered by Homeactions